Las características laborales del profesorado de las actividades físico-deportivas extraescolares en función de la edad y el sexo, dentro de la Comunidad de Madrid. (The employment characteristics of teachers of extracurricular sport activities according to their age and gender in the Community of Madrid).
Resumen
En relación a la población de las personas que desarrollan la función de docencia de las actividades físico-deportivas extraescolares en la Comunidad de Madrid, los objetivos del presente estudio pretenden describir y analizar  la relación entre los tipos de contratos, los ingresos y las variables sociodemográficas. Esta investigación sigue una metodología cuantitativa, de corte transversal y descriptiva en una muestra de 350 personas. El muestro ha sido aleatorio por conglomerados aplicándose una entrevista estandarizada por medio de cuestionario. Los resultados del estudio muestran que existe relación significativa entre el tipo de contrato y la edad [x2 (6)= 17.462; p= .008; Φ=.616], la experiencia profesional y el sexo [x2 (36) = 79.047; p=.000; Φ= .475], los ingresos con el tipo de centro educativo donde se realiza la actividad [x2 (14) = 185.922; p=.000; Φ=.745] y el sexo [x2 (7)= 15.943; p=.026; Φ=.218]. Las conclusión final del estudio indica que la situación profesional de las personas que trabajan en este ámbito es bastante inestable y precaria.
Abstract
In regard to the group of people carrying out the function of teaching extracurricular sport activities in Comunidad de Madrid, the aims of this study are to describe and analyse the relationship among contract, salary and demographic variables. The present study used a quantitative method. A cross-sectional study was performed by means of face-to-face interviews to a random sample of 350 teachers that completed a brief questionnaire. The results show a significant relationship between type contract and age [x2 (6)= 17.462; p= .008; Φ=.616], professional experience and gender [x2 (36) = 79.047; p=.000; Φ= .475], salary with type of school [x2 (14) = 185.922; p=.000; Φ=.745] and gender [x2 (7)= 15.943; p=.026; Φ=.218]. The general conclusión suggests that the professional situation of the people who work in this area is quite unstable and precarious.
http://dx.doi.org/10.5232/ricyde2013.03102
---------------------------------------------------------------------
Referencias/references
Álamo, J. M. (2001). Análisis del deporte escolar en la isla de Gran Canaria. Hacia un modelo de deporte escolar. Tesis Doctoral. Facultad de Ciencias de la Actividad Física y el Deporte, Universidad de Las Palmas de Gran Canaria. Las Palmas.
PMCid:1905962 
Cohen. D. A.; Taylor, S. L.; Zonta, M.; Vestal, K. D., & Schuster, M. A. (2007). Availability of high school extracurricular sports programs and high-risk behaviors. Journal of School Health, 77 (2), 80-86.
http://dx.doi.org/10.1111/j.1746-1561.2007.00171.x
PMid:17222159
Lyberg, L.; Biemer, P.; De Leeuw, E.; Dippo, C., & Trewin, D. (1997). Survey Measurement and Process Quality. Canada: Wiley Series in Probability and Statistics.
http://dx.doi.org/10.1002/9781118490013
Madella, A. (2003). Methods for analysing sports employment in Europe. Managing Leisure, 8 (2), 56-59.
http://dx.doi.org/10.1080/1360671032000085675
Nuviala, A. (2002). Las escuelas deportivas en el entorno rural del servicio comarcal de deportes "Corredor del Ebro" y el municipio Fuentes de Ebro. Tesis doctoral. Facultad de Ciencias de la Educación, Universidad de Huelva. Huelva.
PMid:12113743
Pabayo, R.; O´Loughlin, J.; Gauvin, L.; Paradis, G., & Gray-Donald, K. (2006). Effect of a Ban on Extracurricular Sports Activities by Secundary School Teachers on Physical Activity Levels of Adolescents. Health Education & Behavior, 33 (5), 690-702.
http://dx.doi.org/10.1177/1090198105285327
PMid:16861595
Saura, J. (1996). El entrenador en el deporte escolar. Lleida: Fundació Pública Institut d'Estudis Llerdencs.
PMCid:1216955
Trudeau, F., & Shephard, R. J. (2005). Contribution of School Programmes to Physical Activity Levels and Attitudes in Children and Adults. Sports Medicine, 35 (2), 89-105.
http://dx.doi.org/10.2165/00007256-200535020-00001
Palabras clave/key words
actividad física extraescolar; contratos; salario; sexo; edad; extracurricular sport activities; contract; salary; gender; age.
Texto completo/Full Text:
PDF
------------------------ 0 -------------------------
RICYDE. Revista Internacional de Ciencias del Deporte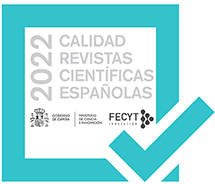 Publisher: Ramón Cantó Alcaraz
ISSN:1885-3137 - Periodicidad Trimestral / Quarterly