RICYDE está indizada en las siguientes bases de datos y repositorios
Sistema Regional de Información en Línea para Revistas Científicas de América Latina, el Caribe, España y Portugal. (En catálogo + 36 criterios de calidad cumplidos)

RESH (Revistas Españolas de Ciencias Sociales y Humanidades) es un sistema de información que integra indicadores de calidad para las revistas científicas españolas de Ciencias Sociales y Humanidades. Ha sido desarrollado en el marco del proyecto Valoración integrada de las revistas españolas de Ciencias Sociales y Humanas mediante la aplicación de indicadores múltiples (SEJ2007-68069-C02-02), financiado por el Plan Nacional de I+D+i. (Indice de impacto 2005-2009: 0.95)

The European Science Foundation (ESF) signed in January 2014 a memorandum of understanding with the Norwegian Social Science Data Services (NSD) to transfer the maintenance and operations of the European Reference Index for the Humanities (ERIH) to NSD. The ERIH database operated by NSD is called ERIH PLUS.

RECyT (Repositorio Español de Ciencia y Tecnología) es un conjunto de servicios destinados a la comunidad científica española que tiene por objeto apoyar la profesionalización e internacionalización de las publicaciones científicas españolas. El repositorio cuenta con una parte pública (Hemeroteca) que permite el alojamiento de revistas científicas de calidad contrastada y con una parte privada (Edición de Revistas) que facilita el uso de una herramienta que gestiona la edición integral de las publicaciones (incluida la revisión por pares de los artículos, etc). En Marzo de 2020 se obtione la renovación del Sello de Calidad hasta 2022.

MIAR (Matriz de información para la evaluación de revistas) es un sistema para medir cuantitativamente la visibilidad de las publicaciones periódicas en Ciencias Sociales en función de su presencia en distintos tipos de bases de datos. (ICDS=9.700)


American Psychological Association. PsycINFO is an abstract (not full-text) database of psychological literature from the 1800s to the present.

PSICODOC es una base de datos internacional con interfaz multilingüe (español, inglés y portugués) que facilita la búsqueda bibliográfica y el acceso al texto completo de las publicaciones científicas sobre Psicología y otras disciplinas afines.

[UIF] RICYDE obtiene el Universal Impact Factor 1.4025 for year 2013. Certificate The Universal Impact Factor is a measure of the frequency with which the "average article" in a journal has been cited in a given period of time. The impact factor is used as standard dimension and the relative importance of a scientific journal within its field. The Universal Impact Factor is calculated by several scientific methods.

EuroPub is a comprehensive, multipurpose database covering scholarly literature, with indexed records from active, authoritative journals, and indexes articles from journals all over the world. The result is an exhaustive database that assists research in every field. Easy access to a vast database at one place, reduces searching and data reviewing time considerably and helps authors in preparing new articles to a great extent. EuroPub aims at increasing the visibility of open access scholarly journals, thereby promoting their increased usage and impact.

[GIF] RICYDE obtiene el GLOBAL Impact Factor 0987 for year 2015. Certificate

Fuente Académica es una colección de publicaciones académicas de América Latina, Portugal y España. Esta colección, en rápido crecimiento, resulta una herramienta indispensable de un alcance excepcional y, gracias a su diseño, permite que la investigación académica resulte fácilmente accesible en formato PDF.

CABI publishes high quality scientific resources within the applied Life Sciences

IC Journals is a journal indexing, ranking and abstracting site. This service helps a journal to grow from a local level to a global one as well as providing complete web-based solution for small editorial teams. IC Journals helps to professionally manage your journal from your location and automatically delivers XML files to Medline. This service accepts, peer-review and tracks manuscripts online and builds up relations with authors, reviewers and readers as well as increasing the international awareness of a journal. IC™ Value (2012): 5.58

Indexados desde enero de 2011. Actualización a 30 de abril de 2021: SJR 2020= 0.28 - H-index= 17


Ulrichsweb™ is the authoritative source of bibliographic and publisher information on more than 300,000 periodicals of all types–academic and scholarly journals, Open Access publications, peer-reviewed titles, popular magazines, newspapers, newsletters, and more from around the world.

Recolector de ciencia abierta con el objetivo de impulsar, apoyar y coordinar el desarrollo cohesionado de la red interoperable de repositorios digitales para el acceso abierto, difusión y preservación de los resultados de la investigación científica en España.

The Open Science Directory has been developed by EBSCO and the Hasselt University Library based upon a request by marine information management experts collaborating within the framework of the IOC's (Intergovernmental Oceanographic Commission of UNESCO) IODE (International Oceanographic Data and Information Exchange) programme.

Red de revistas científicas en acceso abierto de America Latina, el Caribe, España y Portugal.

Google Académico proporciona el resultado de una búsqueda que contiene información bibliográfica como el título, nombres de los autores y publicación original, etc., proporcionando una gran visibilidad documental. Índice h5=17 Mediana h5=23 (2017-2021)


Directory of Open Access Journals que se desarrolla en la Universidad de Lund, Suecia.

SportDiscus™ is the world's leading database in sport, health, fitness and sports medicine. For over 30 years, SIRC has been providing access to fulltext and bibliographic references in such areas as sport medicine, physical education, coaching and training, arts and history.

Plataforma REDIB, Red Iberoamericana de Innovación y Conocimiento Científico, gestionada por el CSIC, Agencia Estatal Consejo Superior de Investigaciones Científicas y Universia

Calificador Global. 30,796 y Q1


Portal de difusión de la producción científica hispana.
------------------------ 0 -------------------------
RICYDE. Revista Internacional de Ciencias del Deporte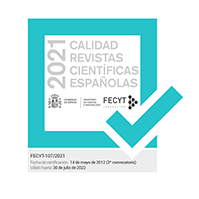 Publisher: Ramón Cantó Alcaraz
ISSN:1885-3137 - Periodicidad Trimestral / Quarterly