Mediadores psicológicos y motivación deportiva en judocas españoles. (Psychological mediators and sport motivation in Spanish judokas).
Resumen
El presente trabajo analizó las diferencias de la motivación en situación precompetitiva de judocas en función de los mediadores psicológicos (percepciones de competencia, apoyo a la autonomía y relaciones sociales), tal y como postula el Modelo Jerárquico de la Motivación Intrínseca, Extrínseca y Amotivación (Vallerand, 1997, 2001; Vallerand y Losier, 1999). Se empleó una muestra de 181 judocas de edades comprendidas entre los 14 y 16 años. Utilizamos una metodología selectiva, con diseño prospectivo simple. Los datos se analizaron mediante un MANOVA, tomando como variables independientes los mediadores psicológicos y el sexo de los deportistas y como variables dependientes cada una de las subescalas de la motivación planteadas en la Sport Motivation Scale (Pelletier et al., 1995). Los resultados apoyaron parcialmente los postulados de la teoría. Se verificaron las diferencias en motivación intrínseca en función de la percepción de competencia, apoyo a la autonomía y relaciones sociales. También se verificaron parcialmente las diferencias en la motivación extrínseca (ME) autodeterminada y de la amotivación en función de estas percepciones. Sin embargo cabe destacar que las diferencias en ME de regulación externa encontradas en función de estas percepciones se dieron en dirección opuesta a los postulados de la teoría. Se explica este resultado a partir de la situación precompetitiva en la que se encontraban los deportistas.
Palabras clave/key words: competencia | autonomia | relaciones sociales | adolescencia | competence | autonomy | social relationships | adolescence
Abastract
Present study analysed differences between pre-competitive motivation of judokas in function of psychological mediators (perceptions of competence, support to autonomy, and social relationships), as is postulated by the Hierarchical Model of Intrinsic and extrinsic Motivation, and Amotivation (Vallerand, 1997, 2001; Vallerand & Losier, 1999). Partipants were 181 judokas aged between 14 and 16. We employed a selective methodology, with a simple prospective design. Data were analysed with a MANOVA, taking as independent variables the psychological mediators (dichotomized by the median), and sex of participants, and as dependent variables each one of the sub-scales of motivation considered by the Sport Motivation Scale. Results gave support the theory postulates. There were differences in intrinsic motivation in functions of perceived competence, support to autonomy and social relationships. The same happened, partially, with the more self-determined sub-scales of extrinsic motivation and amotivation. However, differences in EM of external regulation were given in an opposite direction of theory. Results are explained regarding the pre-competitive situation of athletes.
doi:10.5232/ricyde2006.00501
---------------------------------------------------------------------
Referencias/references
Baumeister, R.F. & Leary, M.R. (1995). The need to belong: Desire for interpersonal attachments as a fundamental human motivation. Psychological Bulletin, 117, 497-529.
doi:10.1037/0033-2909.117.3.497
PMid:7777651
Goudas, M. & Biddle, S.J.H. (1994). Perceived motivational climate and intrinsic motivation in school physical education classes. European Journal of Psychology of Education, 9, 241-250.;
doi:10.1007/BF03172783

Harlow, H.F. (1958). The nature of love. American Psychologist, 13, 673-685.
doi:10.1037/h0047884

Harter, S. (1978). Effectance motivation reconsidered: Toward a developmental model. Human Development, 1, 34-64.
doi:10.1159/000271574

Hu, L. & Bentler, P.M. (1999), Cutoff criteria for fit indexes in covariance structure analysis: Conventional criteria versus new alternatives. Structural Equation Modeling, 6, 1-55.
doi:10.1080/10705519909540118
Vallerand, R.J. & Losier, G. (1999). An Integrative Analysis of Intrinsic and Extrinsic Motivation in Sport. Journal of applied sport psychology 11, 142-169.
doi:10.1080/10413209908402956

Vallerand, R.J. & Reid, G. (1988). On the relative effects of positive and negative verbal feedback on ales and females' intrinsic motivation. Canadian Journal of Behavioural Sciences, 20, 239-250.
doi:10.1037/h0079930

White, R.W. (1959). Motivation reconsidered: The concept of competence. Psychological Review, 66, 297-333.
doi:10.1037/h0040934
PMid:13844397
---------------------------------------------------------------------
Palabras clave/key words
competencia; autonomia; relaciones sociales; adolescencia; competence; autonomy; social relationships; adolescence
Texto completo/Full Text:
PDF
------------------------ 0 -------------------------
RICYDE. Revista Internacional de Ciencias del Deporte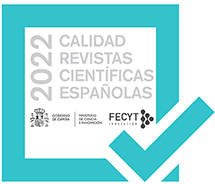 Publisher: Ramón Cantó Alcaraz
ISSN:1885-3137 - Periodicidad Trimestral / Quarterly